教練課程
Junior Capoeira Coach qulaification courses are available through the World Capoeira Federation.
Members of The Capoeira Federation of Hong Kong, China may receive a discount from the WCF when joining courses.
Senior Capoeira Coaching qualifications are avaible through the World Capoeira Federation.
Members of The Capoeira Federation of Hong Kong, China receive a discount from the WCF when joining courses.
Master Capoeira Coaching qualifications are avaible through the World Capoeira Federation.
Members of The Capoeira Federation of Hong Kong, China receive a discount from the WCF when joining courses.
The Objective
To create a qualification and for Physical Education teachers to be able to incorporate Capoeira into their schools PE programs themselves as part of the normal school curriculum.
Introduction
School Physical Education teachers already have many of the attributes that we require to build a high-quality Capoeira Coach.
Empowering PE teachers to be able to include Capoeira as part of the school curriculum can go a long way to creating a successful distribution network that can deliver Capoeira basic fundamentals to kids all over Hong Kong within a short period of time and on an ongoing basis.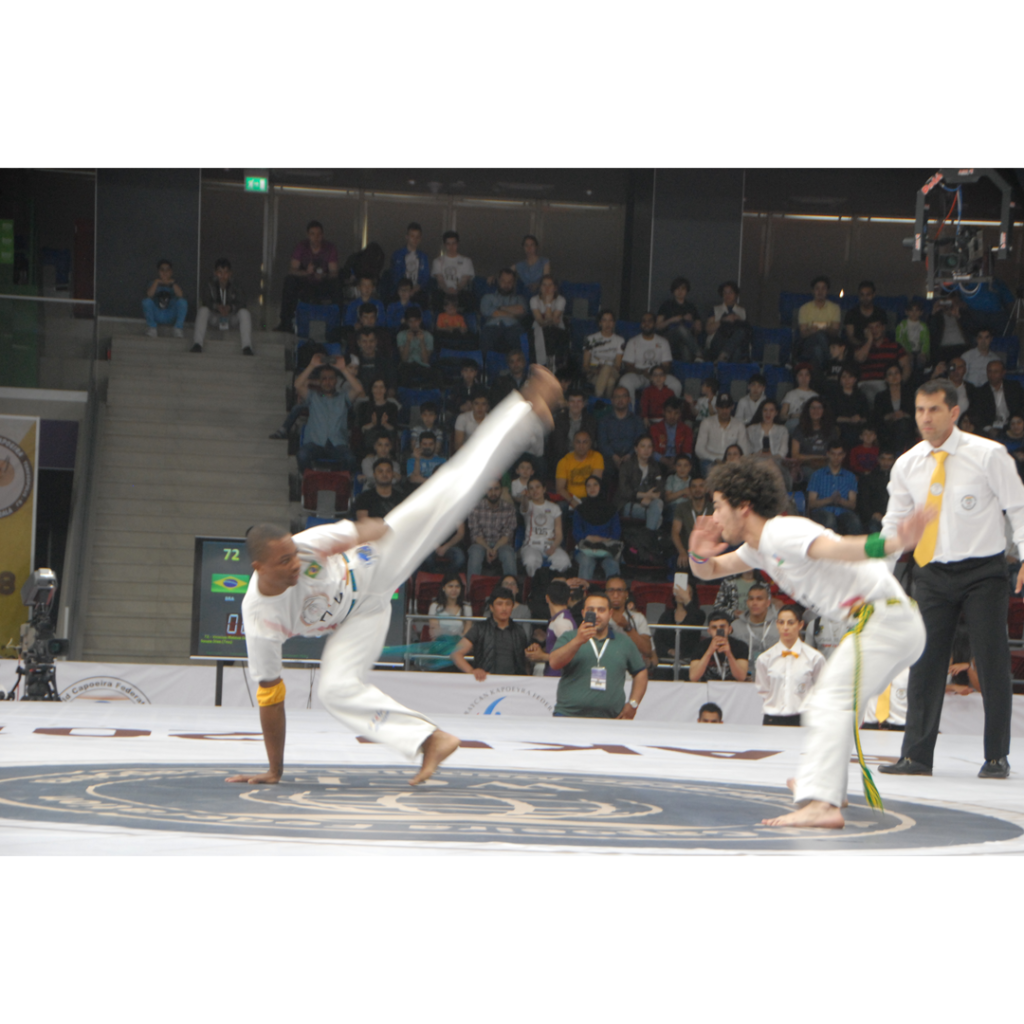 Benefits of the Qualification
Being a Physical Education teacher, they would be able to skip a large portion of a normal Capoeira Coaching course as they already have knowledge and qualifications in sports, health, and fitness. The only outstanding portion is the actual Capoeira skills and knowledge.
We have created this Interim Capoeira Coaching Qualification and are currently applying to have it backed by the Hong Kong Qualification Framework that can serve them not just for the short term but as an official qualification into the future of their careers as PE teachers.
The qualification will provide them not only with the base skills of Capoeira but also the fundamentals of the musical and cultural aspects, knowledge of history and folklore, and detailed knowledge of Capoeira as a competitive sport and its rules and regulations.
Achieving the Qualification
To achieve the qualification the participants would need to successfully attend the 8-session training course.
They would need to demonstrate a satisfactory ability to perform the movements and have a good understanding of the interaction of the game.
The course also includes some theory that covers all the material in the Capoeira (Interim) Coaching Textbook. They would be required to study the Capoeira (Interim) Coaching Textbook that contains information on history, etiquette & fundamentals, and structure and scoring systems of competitions.
They would have to pass a written exam based on the textbook as well as the practical training course.
This exam will include:
History of Capoeira.
Terminology of Capoeira. Etiquette &
Fundamentals.
Differentiation of Capoeira as a cultural art-form & Sport Capoeira.
Structure & scoring of Sport Capoeira Competitions.
And lastly satisfactorily demonstrate teaching one of the pre-formatted sequences based on the course plans provided to them that they could deliver as part of the school curriculum showing that they are aware of possible dangers and can make adjustments for students that may not be able to perform certain movements.
Course Content
In detail, the course would include the following elements.
Practical Elements:
Base Capoeira skills.
3 round kicks.
2 escape movements.
2 re-directional movements.
2 base acrobatics.
Introduction to the music of Capoeira.
Clapping & Singing
Playing the Atabaque
Learn pre-formatted sequences that are instantly deliverable to youth in schools.
Theory Elements:
Basic history of Capoeira.
Etiquette and fundamentals of playing Capoeira.
Terminology and its meanings.
Definition of Capoeira as a cultural art-form and Capoeira as a competition sport.
Rules, regulations, and scoring systems of Sport Capoeira.
Pre-formatted student mini-quiz.
Succession Planning
Succession for Students
Once a PE teacher has delivered the Capoeira program as part of their curriculum and a number of students are interested in continuing training and participating in competitions the school could form a Capoeira Club and invite a fully qualified Capoeira Coach to come to the school regularly to train and prepare the students to represent their school and district in competition.
These players would also be eligible to enter national and international competitions organised by the CFHK or the WCF.
Succession for PE Teachers
Teachers would be able to progress into a full Capoeira Coach with additional physical training to improve their skills and knowledge of the game. Once achieving this they could then be the official Capoeira Coach for the school team or given more time and training become a competition official to judge or referee championships in Hong Kong and abroad.
Teachers may even compete themselves in adult categories of competition within Hong Kong or internationally.
Location
The course would be handled by GCBHK Capoeira Hong Kong and Master Coach Daniel Hemsworth at one of their centrally located studios at either Central or Tsim Sha Tsui.
Course Cost
The total course cost per participant is $3300.00.
This cost is inclusive of:
8 training sessions including 90 minutes of physical training & 60 minutes of theory per session.
The Capoeira Coaching (Interim) Textbook.
Certificate of qualification.
Pre-formatted sequence reference guide.
Pre-formatted student mini-quiz.
Course Schedule
The 8 sessions of the course will run in conjunction with the standard school term.
Participants must attend all 8 sessions to gain the qualification.
A course will be confirmed to run when at least 4 participants are confirmed to attend. The current limit is 12 persons per course.
Next Course
Tuesday's – 17:00-19:30.
Start date – Tuesday,
September 7th, 2021.
Every Tuesday for 8 consecutive weeks.