Mestre Toni Vargas – Master class 2020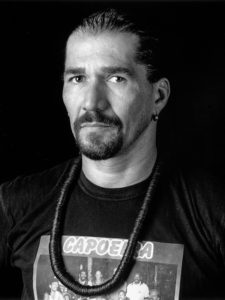 CFHK together with Grupo Senzala Guangzhou are happy to announce the 2020 Master Class Seminar with special guest Mestre Toni Vargas.
Mestre Toni Vargas was born in Rio de Janeiro on April 5th 1958 and started Capoeira at the age of 10 with Mestre Rony of Grupo Palmares de Capoeira and in the mid 70's he changed to Grupo Corda Bamba with Mestre Touro.
After a few years, he started training under Mestre Peixinho in Grupo Senzala for whom in 1985 he was the first graduated Formado.
Mestre Toni Vargas aside from being a great Capoeirista is also an acclaimed musician having, penned many of the famous songs that we love to sing in Rodas around the world today, has released 4 albums and has featured on many more all over the world.
Take this rare opportunity to meet and learn from one of the Capoeira greats right here in your own backyard. He will be in Hong Kong for 2 days sharing his experiences on Capoeira theories of play, music, poetry, history and folklore.
Date: Wednesday 28th & Thursday 29th October 2020
Location: TBC
Price: HKD$1000 (members) / HKD$1250 (non-members)
Program:
Hong Kong
Wed 28th –  19:00 – 22:00
Thur 29th – 19:00 – 22:00
---
For Players wishing to attend the Seminars in Guangzhou please contact Instrutor Golilla for more information on prices and schedule.
WeChat: mos9675
Guangzhou
Frid 30th Oct – Sun 1st Nov (Batizado Senzala Guangzhou)
* This is a great opportunity for the Players of Hong Kong, thanks to Grupo Senzala Guangzhou and Mestre Pedro Albuquerque from Cambridge, England.